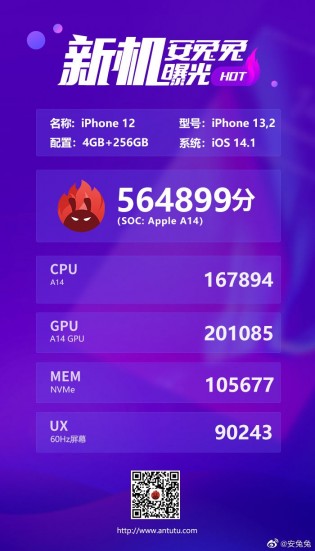 Apple iPhone 12, iPhone 12 Pro appear on AnTuTu, fail to impress
Apple introduced its iPhone 12 lineup earlier this week, and the vanilla iPhone 12 and the iPhone 12 Pro are already being prepared for pre-order before next week's market arrival. Today we spotted both devices benchmarked on AnTuTu, giving us a sneak peek of the synthetic performance of the phones' internals.
Both iPhone 12 devices are powered by the A14 Bionic, built on the 5 nm process technology, but the raw numbers reveal rather disappointing results when compared to the Snapdragon 865 chip by Qualcomm, used by most Android flagships.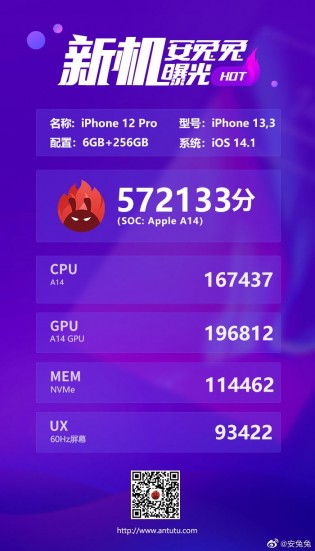 Apple iPhone 12 • Apple iPhone 12 Pro
The 570,000-ish sum of the GPU, CPU, memory, and user interface performance at AnTuTu is anything but impressive. A quick comparison between a random Xiaomi phone scoring over 687,000 and Apple devices that fail to jump over the 600,000 threshold reveal lack of performance in all four categories, with the biggest discrepancy being in the GPU department – the decline from 292,704 to 201,085 is nearly 44%.
In the other three segments, Apple has less than 10% of performance to catch up, and the memory difference is about 6%, thanks to the 4/256 GB memory combo of the iPhone 12 and the 6/128 GB variation of the iPhone 12 Pro.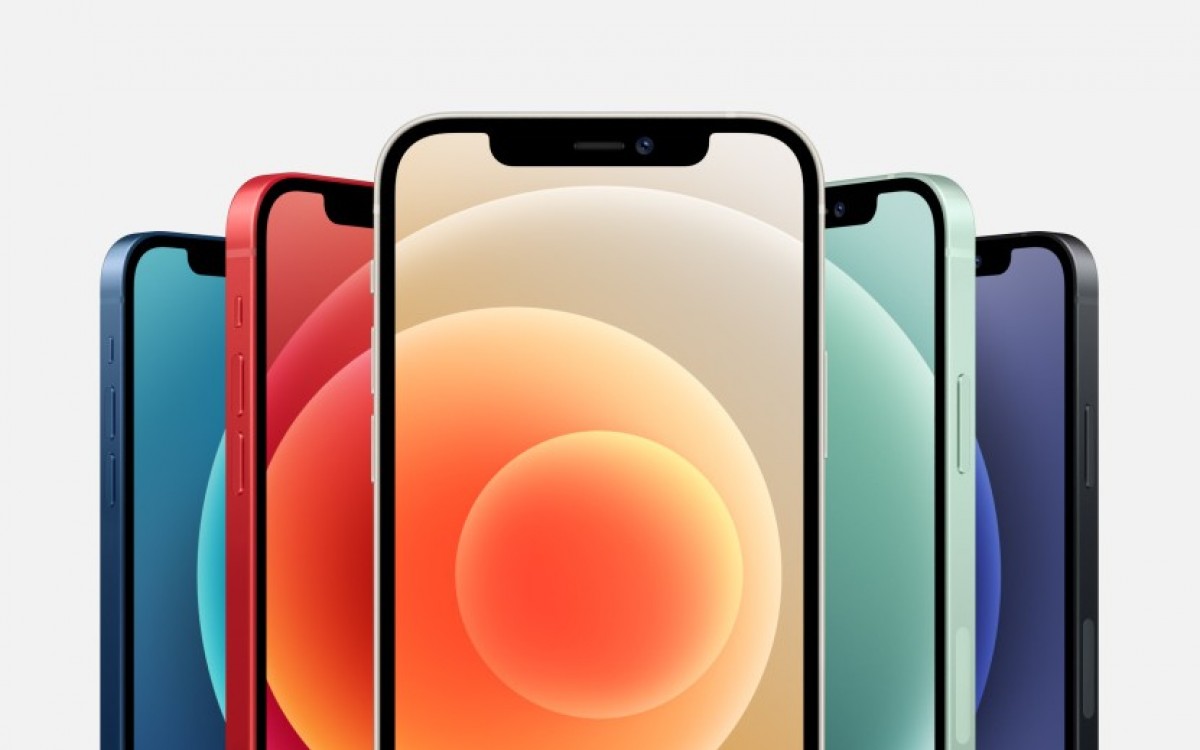 However, it is not fair to compare Apple products with Android smartphones due to the different nature of how the devices utilize resources. The iPhones are playing in their own league, and it is fair to compare the A14 to its predecessor – the 7nm A13 Bionic chip. Our database shows the iPhone 11 Pro Max scores 536,883 on AnTuTu 8, which gives the iPhone 12 family a slight 5-6% advantage, depending on RAM and storage.
Let's not forget smartphones are not all chipsets and antennas, there's also the subjective factor called "user experience". Once the phones are out and we're done with our reviews, you can come back and read more about how the iPhone 12 devices perform in real-life scenarios.