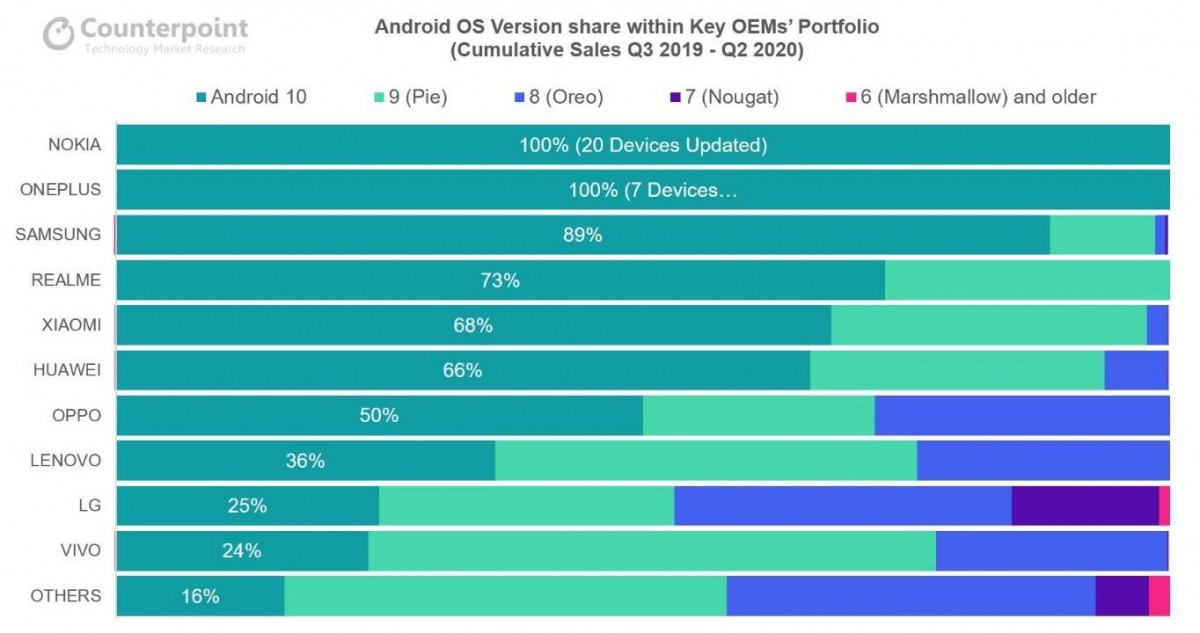 Nokia phones top Counterpoint's Trust Rankings: a mix of update speed and hardware durability
Counterpoint Research has published its report on "Trust Rankings" for smartphone makers, which are based on the four pillars of up-to-date software, security updates, build quality and devices recommended for enterprises.
HMD Global's Nokia phones topped the charts with timely OS and security updates and phones whose durability exceeds the industry average. Here's how the analysts broke down the results.
First, all eligible Nokias are currently running Android 10 – that's even better than last year when HMD was in the lead again. The only other smartphone maker to boast that 100% of its current phones are updated is OnePlus, though that's with only 7 devices versus HMD's 20.
Samsung rates quite well in this test too, with 89% of eligible Galaxy phones running Android 10. Realme placed a distant fourth with 73%, edging out rivals Xiaomi and Huawei.
HMD's portfolio of phones had the highest share of models that are recommended for enterprise use. Part of that is the all of its phones are receiving security patches every month. OnePlus has an almost perfect score too, with 90% of supported devices getting monthly patches.
For Samsung and Huawei the fraction is 22% and 29%, respectively, meaning that the majority of their phones are on the quarterly patch schedule. Realme and Xiaomi do much better in this regard with two thirds of their phones getting patched every month.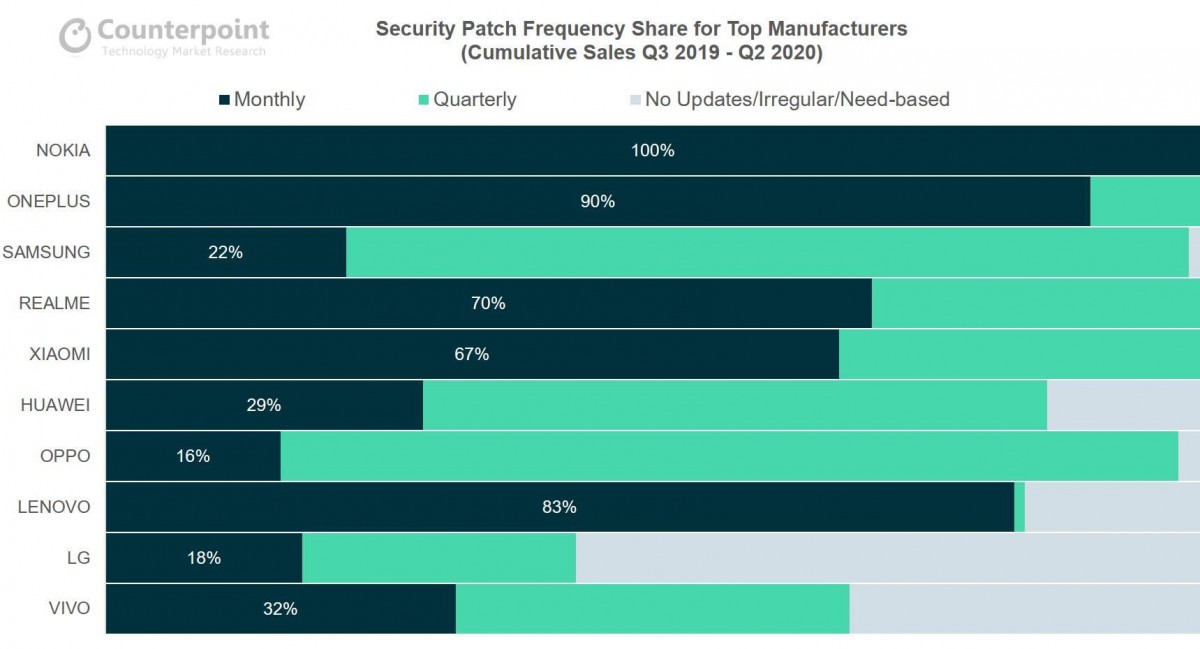 HMD's testing procedures are tougher than the industry average. "The build quality pillar was evaluated on several criteria including product robustness, force measurement, drop and impact, fatigue, wear and scratch, thermal tests, moisture and liquid tests, and others which included both qualitative and quantitative observations," according to Associate Director Tarun Pathak.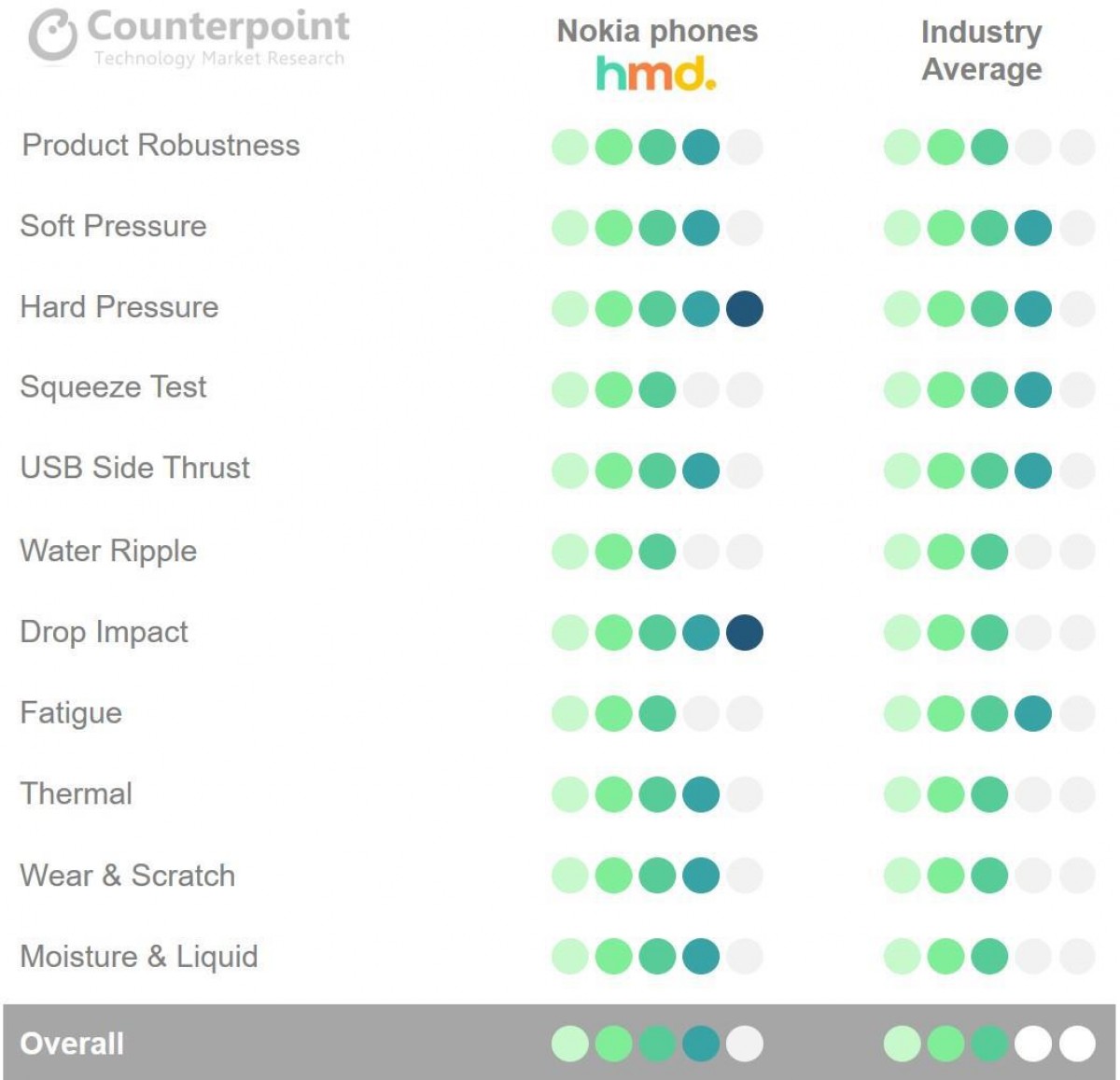 Software and hardware longevity is important as Counterpoint's data shows that people are keeping their phones longer than they used to – the replacement cycle is nearing 30 months.