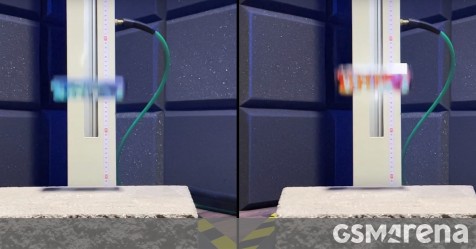 The iPhone 12 and 12 Pro ace the drop test, but the back glass is vulnerable
With the iPhone 12 series Apple introduced Ceramic Shield, a new type of screen glass which "provides the biggest jump in durability ever on iPhone". The company specifically advertises a 4x increase in drop resistance, so naturally, someone put those claims to the test.
The videos below show an iPhone 12 and an iPhone 12 Pro. Note that the Shield only protects the front, the type of glass used on the back is unknown, but it's definitely less strong. Also, the Pro models have stainless steel frames while the two vanilla phones use aluminum.
And you'll see that the two materials are damaged differently. Apple's revised design for the front also helps as the screen glass is flush with the frame, so the metal absorbs some of the impact.
Make sure to watch until the end – in the "bonus bonus round" the phones are dropped from just under 1.5 meters (5 ft) onto concrete, which is more likely to cause damage. And before the concrete drop, each phone faceplants onto a smooth metal surface 10 times.
The damage isn't exclusive to the front, mind you, damaging the glass on the back risks ruining the camera too, so using a case is still probably a smart idea (but you can forgo a screen protector). Still, keep in mind that out of warranty screen repair will cost you $280 (the same as repairing the 11 Pro screen).
This test is all about drop resistance, but early indications are that the Ceramic Shield is more resistant to scratches as well.