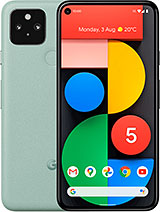 Top 10 trending phones of week 40
A couple of major events took place this week and unsurprisingly our trending chart felt the effect. The Pixel 5 emerged on top, while the Xiaomi Mi 10T and 10T Lite make up the other two podium positions in that order. Surprisingly enough, the 10T Pro didn't even crack the top 10.
In fourth we have the iPhone 12 Pro Max, as you guys are clearly hotly anticipating its official debut.
Two more upcoming phones follow – the Samsung Galaxy A72 and Poco C3 with the last one clearly picking up speed ahead of its launch next week.
The Samsung Galaxy S20 FE is shaping like a new crowd favorite and it takes seventh this week, ahead of the Poco X3 NFC and the Galaxy M51.
The final spot on this week's chart goes to the Redmi Note 9 Pro, which means we wave goodbye to the Realme 7 Pro, the Redmi Note 9 and the Galaxy A51. The last of those was the longest serving member of the chart, having been around almost constantly since its release late last year, but at this point it might not be able to stage another comeback.