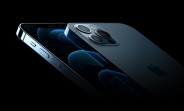 Week 42 in review: Apple iPhone 12 series and OnePlus 8T are official
Welcome to your week's recap and as far as eventful weeks go, this one was huge.
Apple's much anticipated, not to mention delayed by a month, iPhone announcement happened this week and Apple unveiled an unprecedented four-strong lineup. The iPhone 12 family is all OLED, all 5G and boasts a new design with flat sides, reminiscent of the iPhone 4 and 5 of old. The non-Pro iPhone 12 and 12 mini have dual cameras.
The iPhone 12 Pro has a new 6.1-inch display (up from the 5.8-inch of its predecessor) and a mostly unchanged triple camera. The iPhone 12 Pro Max has a new 12MP main camera with a 47% larger sensor and a new 2.5x telephoto camera.
The 6.1-inch iPhone 12 and 12 Pro are available on pre-order already and will ship this coming Friday to the first wave of countries. The 5.4-inch iPhone 12 mini and 6.7-inch iPhone 12 Pro Max will start their pre-orders on November 6.
Apple's decision to remove everything but the USB-C to Lightning cable from the retail package of the new iPhone 12 series, as well as the iPhone 11, SE (2020) and XR also made a big impact on people's water cooler conversations.
The other big story of the week was the OnePlus 8T. It brings a faster 120Hz screen, much faster 65W charging and a new design for a starting price of €600/£550/$750/INR43,000. Sales in India began on October 16, Europe gets the 8T on October 20 and the US on October 23.
Finally the Huawei Mate 40 Pro got into the news with a leaked super zoom sample and a teaser for an October 22 unveil.
Those were the biggest stories of the week. See you next one!